Square-Tail Lodge
760 du Village
Morin-Heights
Quebec, Canada
J0R 1H0
Tel: 450-226-2049
Email: bob@squaretaillodge.com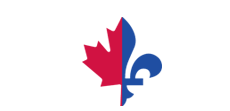 "We had an interesting week of
fishing. The fishing started ok
and by Tuesday we were catching
fish at will."
Jerry May
Golden, N.Y.
"The fishing trip was a blast.
The camps were just what we needed.
Even with the full moon and windy
conditions we caught and released
over 100 Walleye ranging from
3 - 5 lbs. mostly 4 pounders, GREAT!"
Eric Trottier
Gatineau, Quebec

OUTPOST CAMP - LAC FROTET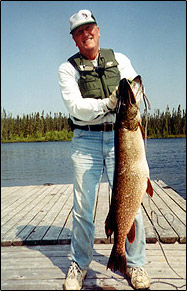 If you have your own boat and motor and don't require all the services offered at our Main Lodge, and you have some of your own equipment, then you might want to consider our OUTPOST CAMP on Lac Frotet. The camps are located at the center of this 12 mile long lake and 6 miles from the Hydro road.
Lac Frotet has excellent fishing for Walleye and Northern Pike and occasionally trophy size Brookies are caught in these waters.
There are two camps on site, each measuring 14' x 16', with a central toilet to service both camps. One camp is used as a sleeping quarters and the other for a kitchen/dining area. The kitchen has both a propane fridge with freezer space and a propane cooktop.
This camp is intended for experienced campers only, who are able to handle any problems that could arise as there are no staff on site.
Location
Camps are located 60 miles north of Chibougamau, Quebec, and are accessed by an excellent gravel road. Driving time is approximately 1 1/2 hours. From the road you boat six miles down the lake to the camps.
Rates for 2022 Season - LAC FROTET
$700.00*/per USD (Deposit $230.00)
$700.00*/per CAD (Deposit $230.00)
* subject to applicable taxes
Scheduled Weeks - 2022

June

June 04 - June 11
June 11 - June 18
June 18 - June 25
June 25 - July 02

July

July 02 - July 09
July 09 - July 16
July 16 - July 23
July 23 - July 30

August

July 30 - Aug.06
Aug.06 - Aug.13
Aug.13 - Aug.20
Aug.20 - Aug.27
Aug.27 - Sept.03
Includes:

Accommodations, pots, pans, dishes, cutlery, mattresses, pillows, firewood and map of territory.

Not Included:

Transportation to camp, food, boats & motors (you can bring your own or rent one in Chibougamau) mixed gas, sleeping bags, boat cushions, fishing nets, tackle, Preserve Permits $15.50 CDN. /day, 7 day Fishing License $35.00 CDN. (non resident).
Discover why over 80% of our clients are repeat guests.